Białystok enjoys the salmon
15 December 2021
The long awaited moment has finally come: last week we opened a manufactured-owned shop and the first in history Mr Łosoś Bistro! Now the residents of Podlasie have an opportunity not only to purchase our remarkable products but also taste special dishes, with our salmon playing the main role, of course.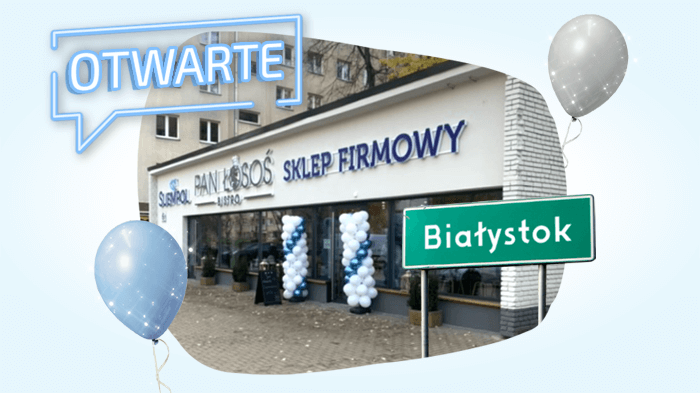 After a few months of preparation, we can now proudly present our new venue at 6 Maria Skłodowska-Curie Street #1 in Białystok. The visitors can purchase all products from our vast offer. On the shelves you will mostly find products of, between others, the classic, premium and BIO series as well as ready-to-serve food. Additionally, all passers-by are able to sit down in a comfortable chair and get carried away on a culinary journey with Mr Łosoś! Our Mr Łosoś Bistro, located under the same address as the manufactured-owned shop, offers both cold and hot ready meals so everyone can find something for themselves.
The idea of manufactured-owned shops was created in 2020. We set off the first venue of this type. It is located in Bielsk Podlaski, just right next to the business office. The opening of the Białystok shop is an announcement of developing a network of manufactured-owned shops with Suempol salmon all over Poland. We are already working on a new such place which we hope to open this year.
It is our pleasure to invite those who love the flavour of our salmon and those who want to love it. Highest quality products, passion in efforts and more than 30 years of experience will surely translate into amazing taste sensations.
Manufactured-owned shop / Mr Łosoś Bistro
Skłodowskiej-Curie 6/1 Street, Białystok
Opening hours: Monday – Saturday 9am – 8pm, Sunday 12am – 8pm