Golden Innovation 2021
15 December 2021
We are pleased to announce that we have been chosen a Laureate of one of the biggest consumer competitions called "Golden Innovations FMCG & Retail". It is a great honour for us as in this project the only products and services that are given awards are those which have direct impact on behaviour of selected consumers through implementing innovations.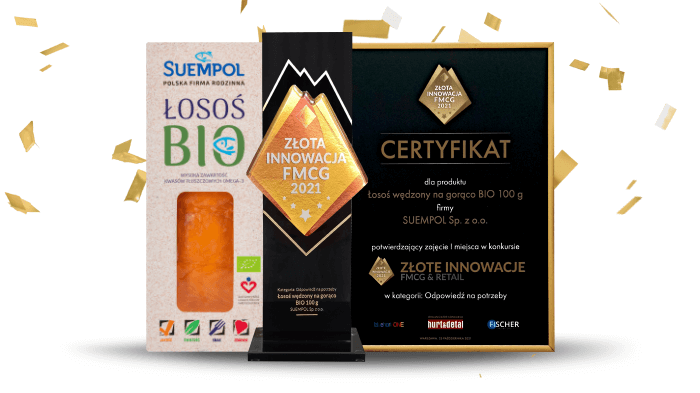 This year in the category "response to the needs: BIO and eco products" our new hot smoked Atlantic salmon of the BIO series was honoured. It guarantees the highest quality – in taste and when it comes to the nutrients it contains as well. The BIO EU certificate is a proof of the process of production which is based on conforming to specified, often restrictive, standards of organic food. Employing such a certificate impacts the selected consumers' choices since they are sure that our product is created with the surrounding environment in mind. Due to complying with the specified rules, the BIO salmon is a product which will satisfy the most particular consumers thanks to the natural flavour of fish and its health benefits that are an incredibly important feature on the modern consumer market.
On Monday, the 25th of October, our representative collected the award during a special Gala. It took place in the Kamienica Theatre in Warsaw.
We are very pleased to be appreciated by our consumers. The real mission of introducing new products for us is constant responding to the needs of our customers. Thank you for such a wonderful honour! And congratulations to all other Laureates and Honoured.