Salmon fishcakes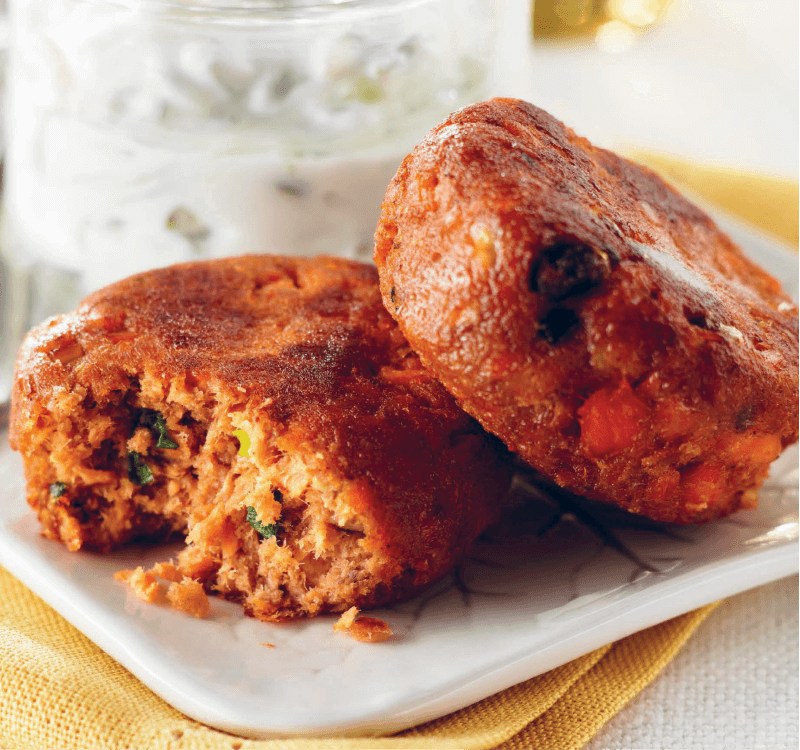 Ingredients:
1 glass chickpeas
1 small onion or 2 shallots
2 tablespoons fresh coriander
1 carrot
100g raw salmon
2 tablespoons lemon juice
1 teaspoon baking powder
4-6 tablespoons flour
oil for frying
salt and pepper
METHOD
Soak the chickpeas overnight in salted water. You can also use tinned chickpeas. Peel the onion and carrot, then finely chop.
Chop the salmon, sprinkle with lemon juice and put aside. Chop the coriander. Blend the chickpeas, carrot and onion but not into a puree – into a consistency of groats.
Add the salmon, coriander, baking powder and 4 tablespoons flour. Mix. Cover and put into the fridge for 1 hour.
Take out of the fridge, form one patty (the mixture should not stick to your hands). Heat the oil in a frying pan (there should be a lot of the oil and the pan should be deep). Fry the fishcake, if it crumbles, put some more flour into the mixture and mix again. Form round patties and fry. Serve with lettuce.
Check out more recipes with the Suempol salmon!